Gallerydrive
2006
Gallerydrive extrapolates the technical capabilities of an audio guide system in order to achieve an art perception experience at a maximum level of convenience. The system is developed for galleries and museums and it drives visitors automatically through the exhibition. Meta information about the various artworks is provided via headphones and touchscreen.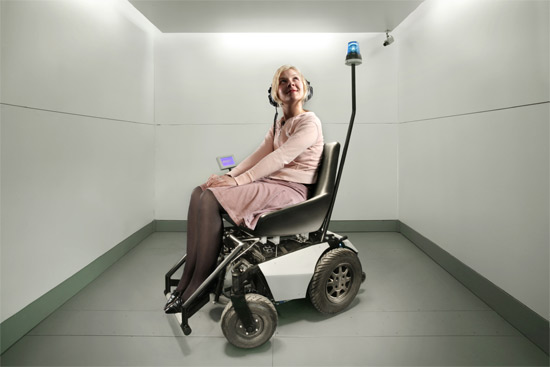 Communication of background knowledge about the exhibited pieces via the Gallerydrive system offers curators, gallerists, exhibition designers and contemporary artists a comfortable way to canalize the huge flood of related information.
It empowers the presenters to control the visitor's perception precisely and to define the ideal path through the exhibition, which guarantees the most efficient art perception. Using the implemented audio player to supply adequate moody background tunes will actuate the favored emotional accommodation of the viewer. This concentrates the exhibition's atmosphere and leads to an enhanced receptiveness of the visitor's brain.
Furthermore, Gallerydrive offers the possibility of exact visitors management: The drive through the exhibition follows a precisely defined timing and topology, which eliminates crowds in front of single pieces (the Mona Lisa effect) and ensures that each visitor perceives every artwork in a standardized high quality.
The following video explains the technical features of the Gallerydrive system. It is filmed at a demonstration setup at the University of the Arts in Berlin:


There are more videos of the Gallerydrive's different production steps online. Here's a link to a video album:
[ Videos of testdrive series ]
Gallerydrive is an open source and open hardware project. The production diary offers all technical background information to realize own Gallerydrive projects:
[ Gallerydrive production diary ]
Related:
[ The Grand Illusion project description ]
[ Robotik Room project description ]