About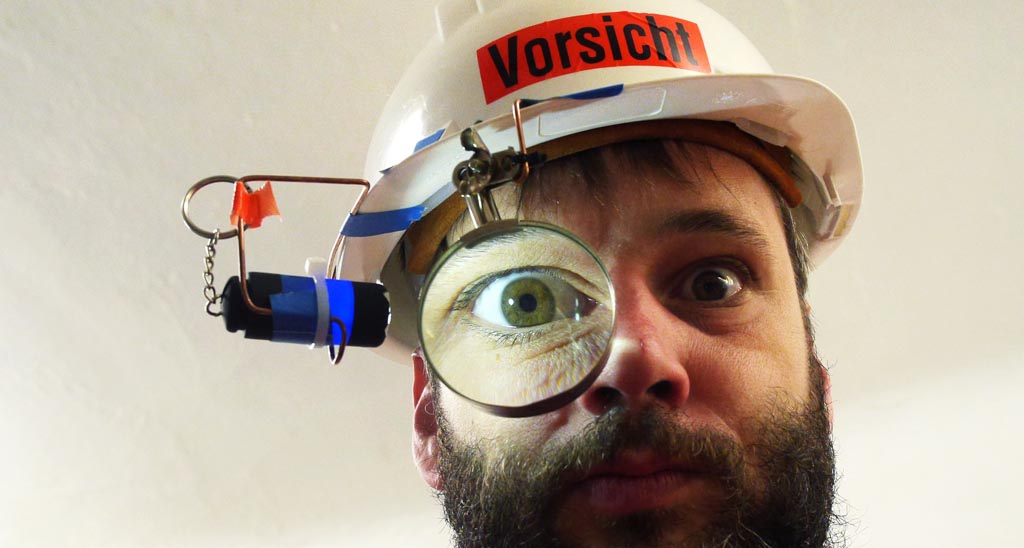 Hello, I'm Niklas Roy!
I live in Berlin and I'm an installation artist and an educator.
Through my work, I explore art, science and technology, often in the form of humorous installations and machines. I like to make as much as possible by myself, because engineering, constructing and coding is a nice way to keep learning new things. This very hands-on DIY approach also produces many ideas, which inspire projects yet to come.
Additionally, I'm interested in the history and imaginary futures of technology, such as renewable energy and space travel. By working with different materials and techniques, I develop interactive media, through which I share the unique and sometimes bizarre fruits of my contemplations.
This video is an example of my installation work: it's a robotic curtain in my workshop window.
My machines are exhibited all around the world. But not everyone has the chance to travel to those shows, and at some point the exhibitions also close their doors. In order to give a broader audience access to my work, I document and explain my projects extensively. This includes often plans, schematics and source codes, so that others can either replicate or remix my works. Publishing my materials under open licenses is my standard practice.
I also like to teach others how to use technology in a creative, fun and reflected way. This happens in hands-on workshops, which I often conduct together with my partner Kati Hyyppä. We develop workshop concepts for people of all ages. Those workshops take place at museums, festivals, art schools and other institutions.
This video is an example of a science workshop for kids, where we built water rockets and measured their performance.
Before I started to work as a freelance artist, I worked as a 3D Artist, Visual Effect Supervisor and Second Unit Director in the film industry. It's probably not super important, as this does not play a big role on this website. But I also know a thing or two about how to make films.
If you want me to do a project, a workshop or a presentation, feel free to invite me! I'm always happy to hear about possibilities to make new projects. Just get in touch!
Social media & other platforms that I'm using

While this website is the main archive for the documentation of my works, I'm also active on other platforms on the Internet:
References:

Here are some places, where I've exhibited, where I gave a talk and/or where I have conducted a workshop:

---

Aalto University (Finland) / Alberta College of Art and Design (Canada) / Ars Electronica (Austria) / Art Forum (Germany) / artlabs.* (Romania) / Auckland University of Technology (New Zealand) / Banff Centre for Arts and Creativity (Canada) / Bauhaus University (Germany) / Berlin University of the Arts (Germany) / Beyond Tellerrand (Germany) / Carré des Jalles (France) / Catalyst (Northern Ireland) / CCC Hacker Congress (Germany) / Club Transmediale (Germany) / Denver International Film Festival (USA) / Deutsches Technikmuseum (Germany) / Disseny Hub (Spain) / E-Fest Tunis (Tunisia) / ECAL (Switzerland) / Edinburgh Festival of Cycling (Scotland) / Elektra (Canada) / Espace [IM] Média (Canada) / European Media Art Festival (Germany) / Experimenta (Australia) / Fantastic Filmfestival (Belgium) / Fantsporto (Portugal) / Festival Emergences (France) / Festival Garage (Germany) / Gamerz (France) / Gare St. Sauveur (France) / Glasgow School of Art (Scotland) / Goethe-Institut Krakau (Poland) / Goethe-Institut Montréal (Canada) / Goethe-Institut Porto (Portugal) / Goethe-Institut Prag (Czech Republic) / Goethe-Institut São Paulo (Brazil) / Hartware Medienkunstverein (Germany) / Hochschule für Gestaltung Offenbach (Germany) / Holland Dance Festival (Netherlands) / Hyperwerk (Switzerland) / International Festival of Documentary and Shortfilm Bilbao (Spain) / Japanese Media Art Festival (Japan) / KIKK (Belgium) / Kunstraum Walcheturm (Switzerland) / La Gaîté lyrique (France) / LABoral (Spain) / LEAP (Germany) / Maison des Arts (France) / Mansedanse (Finland) / Media Art Biennial (Canada) / Media Art Festival Friesland (Netherlands) / Merz Akademie (Germany) / Microwave (Hongkong) / Migros Kulturprozent (Switzerland) / Minerva Art Academy (Netherlands) / Monaco Dance Forum (Monaco) / Mons European Capital of Culture (Belgium) / Museum für Kommunikation (Germany) / Nam June Paik Art Center (South Korea) / National Audiovisual Institute (Poland) / National Center of Contemporary Arts (Russia) / Nova Iskra (Serbia) / Oboro (Canada) / OK Festival (Indonesia) / Palm Beach International Film Festival (USA) / Phæno (Germany) / Philafilm (USA) / PiFan (South Korea) / Polytech Festival (Russia) / Prototype Festival (Brazil) / Re//Act (Germany) / Resonate (Serbia) / Schoolofma (Germany) / Scopitone (France) / Seattle International Film Festival (USA) / Semi-Permanent (New Zealand) / Shift Festival (Switzerland) / SHINE (Netherlands) / Siggraph (USA) / Street Art Festival Katowice (Poland) / The Digital Hub (Ireland) / The Lighthouse (Scotland) / Tilt (France) / Todays Art (Netherlands) / Transmediale (Germany) / Tschumipaviljoen (Netherlands) / University of the Arts Bremen (Germany) / Uppsala International Film Festival (Sweden) / Valand Academy (Sweden) / VIA Festival (France) / Viper (Switzerland) / WRO Center (Poland) / Wroclaw Capital of Culture (Poland) / Württembergischer Kunstverein (Germany) / ZKM (Germany)