Spaziergalerie
Workshop
Kassel, Germany, 2009
When I was giving a workshop at the Art School Kassel, I proposed the students to build a mobile gallery space with which we would stroll through Kassel's downtown and rest at popular places. We wanted to interest regular people in our art and instead of waiting that they would eventually visit us, we thought it's easier to bring our gallery to them.
Our mobile white cube. It was basically an art trap for pedestrians.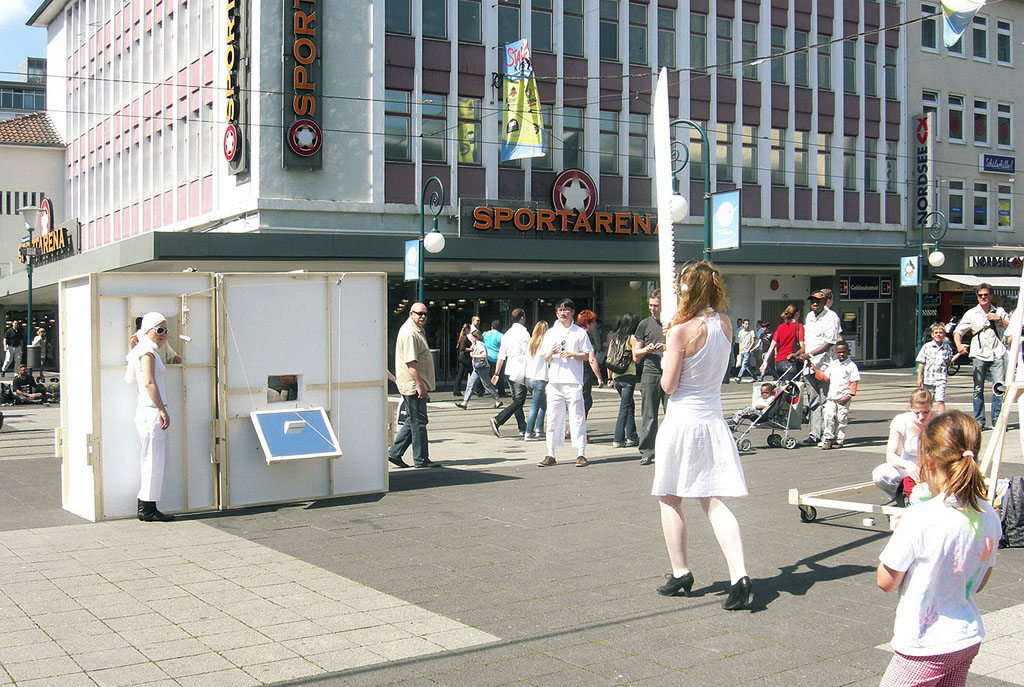 We wanted our visitors to feel as comfortable as possible. Therefore our white cube had a kitchen attached, from which we served fresh milk and popcorn.
View from the large room into the little kitchen.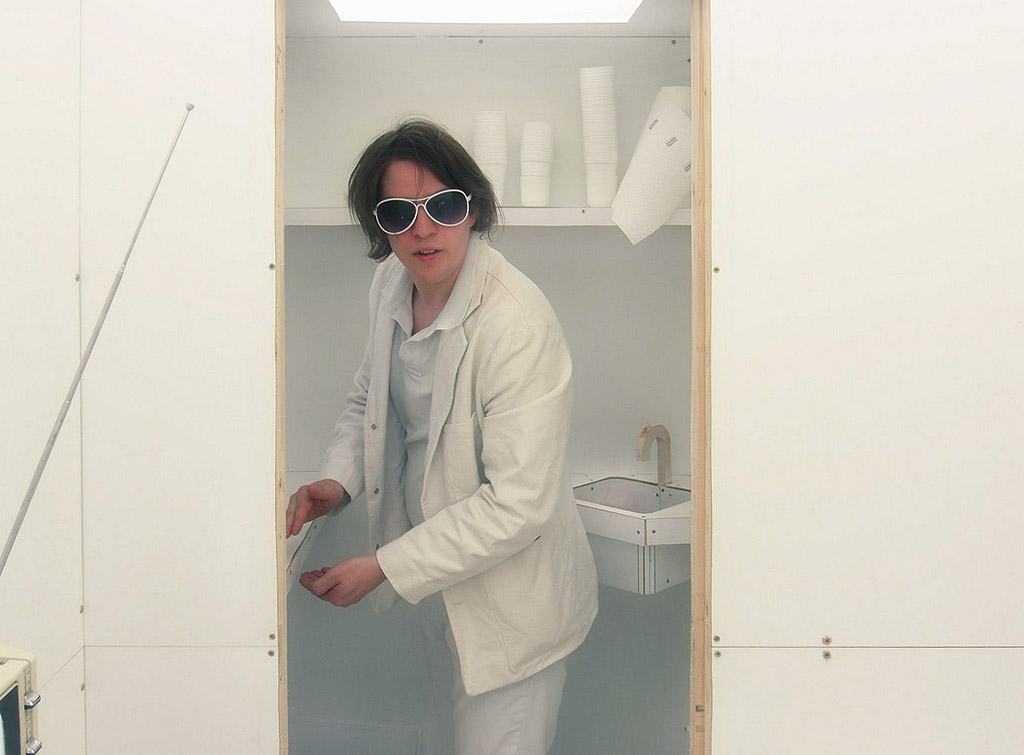 Our visitors were invited one person at a time. They could sit down, enjoy the free refreshments and conversate with the host about Adolf Luther's "Theory of Space" and the "Strollology" of Lucius Burckhardt. additionally, they could play a video game in which they were controlling a real avatar outside the gallery with a joystick. The visitors could follow the actions of the avatar through a TV-set, while the "screen" was just a hole, cut in the gallery wall.
The "screen" was just a hole in the gallery wall through which one could look outside.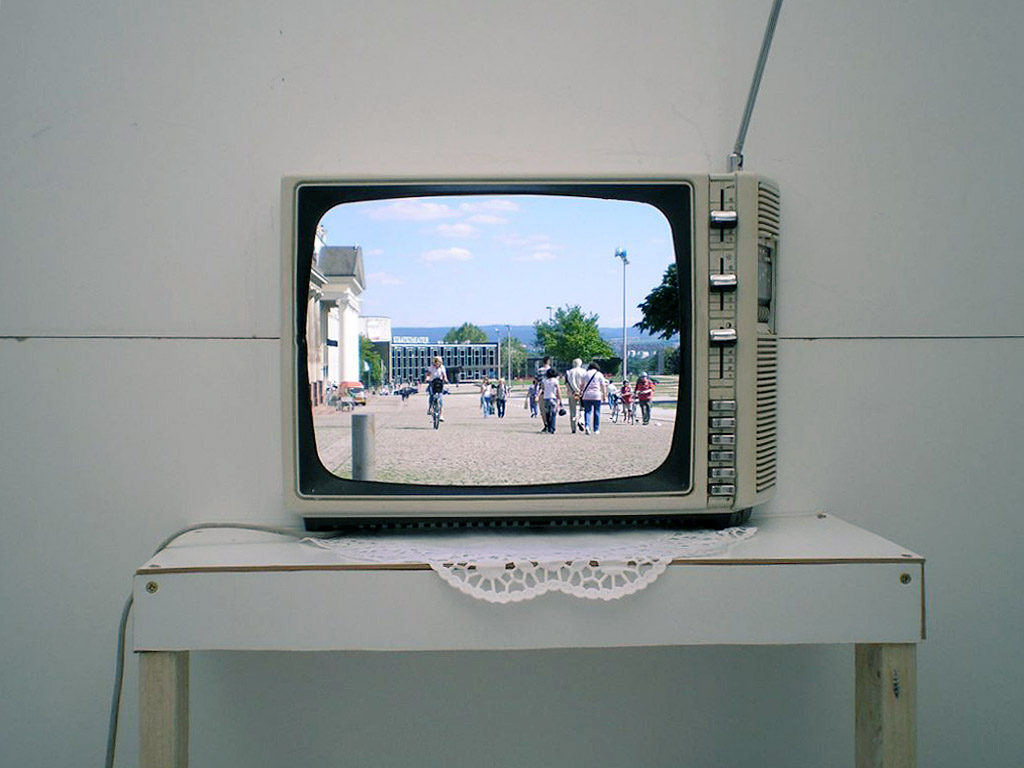 A visitor is enjoying a nice round of (virtual) reality gaming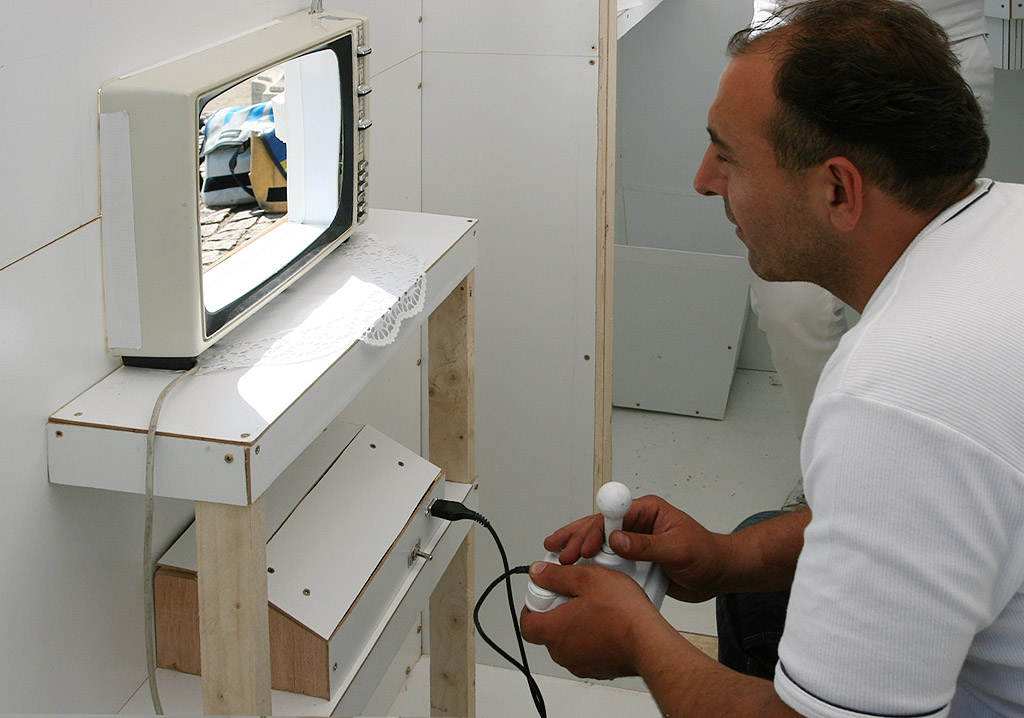 The "screen" seen from outside: it had mirror attached, which we could pull up in order to display game titles.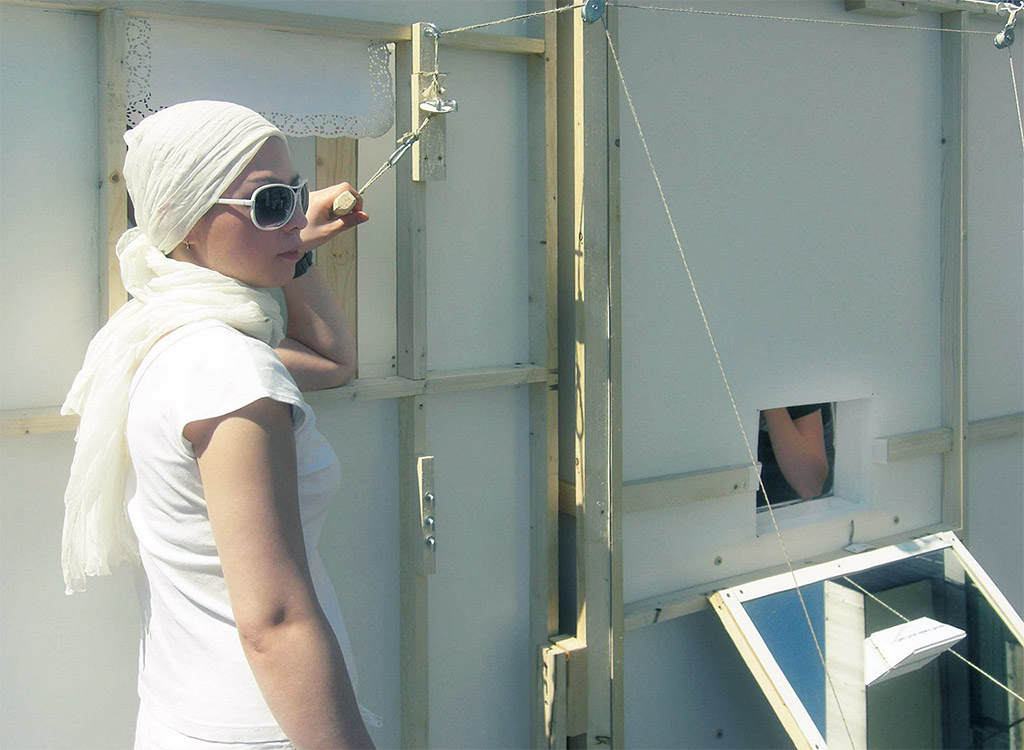 Technically, the setup was quite simple. The joystick was controlling an mp3 player and depending to the input, the mp3 player was playing different tracks with recorded voices saying "Up!", "Down!", "Left!", "Right!" and "Fire!". The audio signal was transmitted via wireless headphones to the avatar, who was executing the player's commands.
With her wireless headphones, the avatar followed every action that the player commanded via joystick.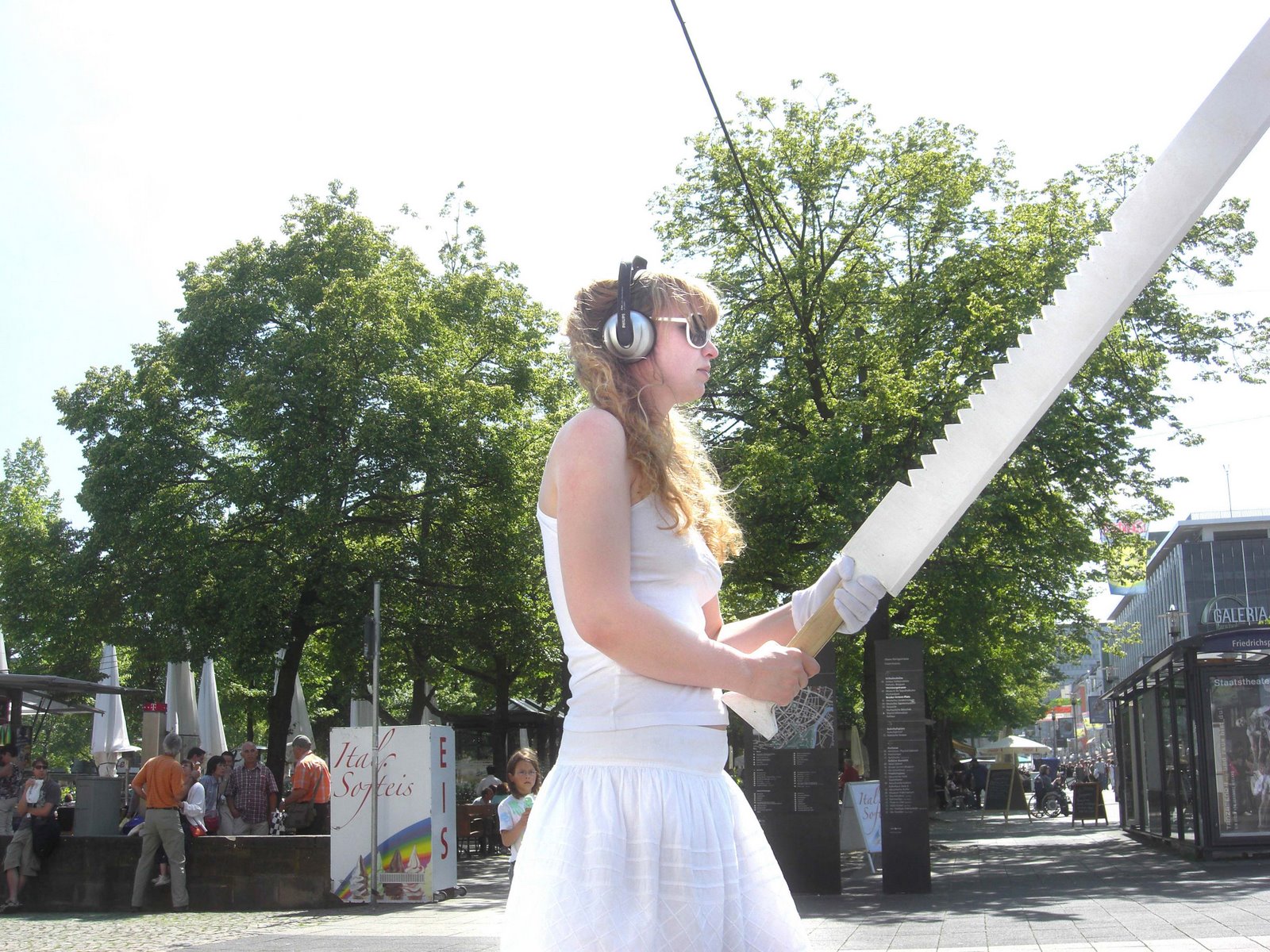 It was quite funny to see how people controlling the avatar interacted with the real world. They often tried to do weird stuff with the avatar's mega-sword, like attacking other pedestrians or killing themselves through the screen.
The obligatory team photo.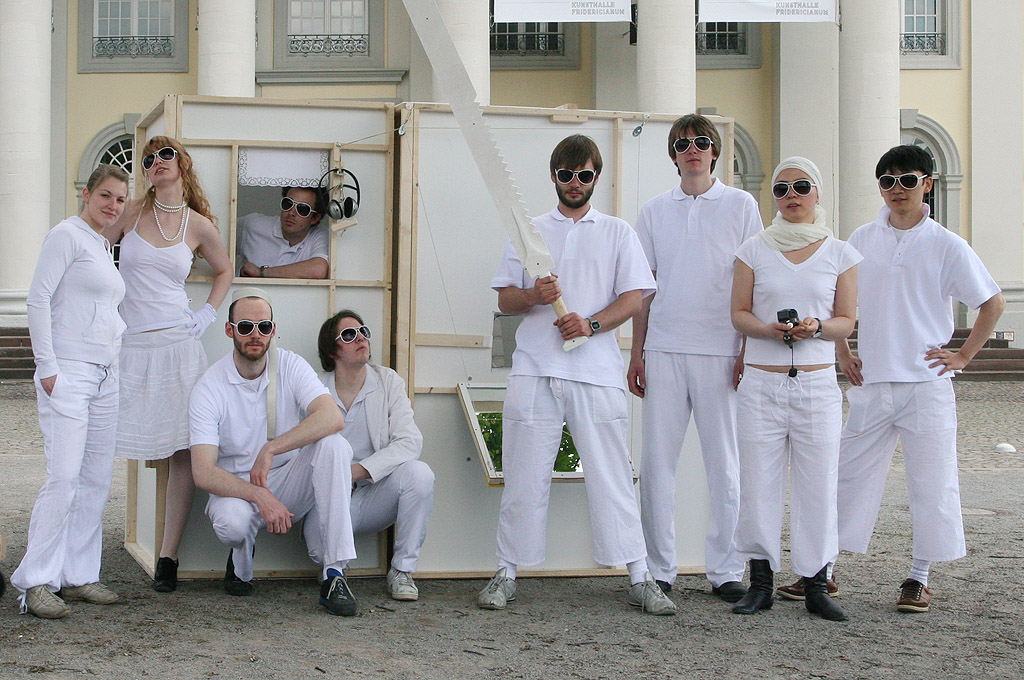 This was a beautiful week and we all had a lot of fun discussing, inventing and building this strolling gallery. Of course the performance at the end was the true highlight of this incredible workshop in Kassel!
Special thanks
I want to thank all the students for their good energy and superb ideas and also big thanks to Olaf Val for inviting me to this exciting workshop!
Additional resources