Ping Pong Ball Suction Construction
Interactive Machine
Gare St. Sauveur, Lille, France, 2012
The "Ping Pong Ball Suction Construction" is part of a Ping Pong Country (PPC) installation by Bijan Dawallu and Remco Schuurbiers, produced by Association L'Entorse.
Let me explain a bit of the PPC background, before I present the details of the machine: Bijan and Remco discovered in the early 2000s that playing ping pong, listening to country music and drinking alcohol go quite well together. So they did this as some sort of art performance at many occasions and subsequently they got invited to relatively serious art biennials and exhibitions with this concept. But even if I can absolutely appreciate the fun part of it, the deeper philosophical meaning of this "art" remains slightly miraculous to me.
Hi-speed ping pong action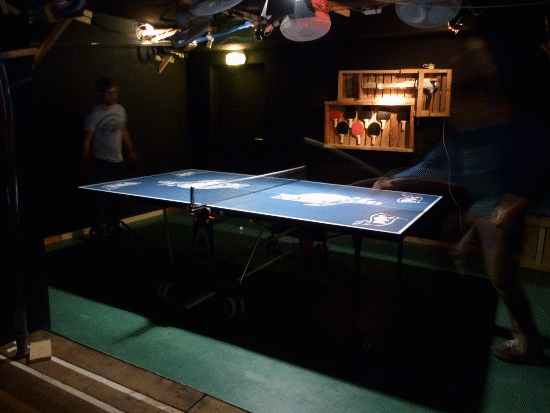 In Spring/Summer 2012 both guys were invited to create an installation version of Ping Pong Country in Lille's Gare St. Sauveur. They were a bit tired of doing the same thing for such a long time over and over again, so they asked me to contribute some machinery to the environment in order to make it a bit different in that new version. I came up with the devilish plan to offer the audience an opportunity for sabotaging the game in a playful way. "Ping Pong Country / Edition Sabotage" was born.
The sabotage control room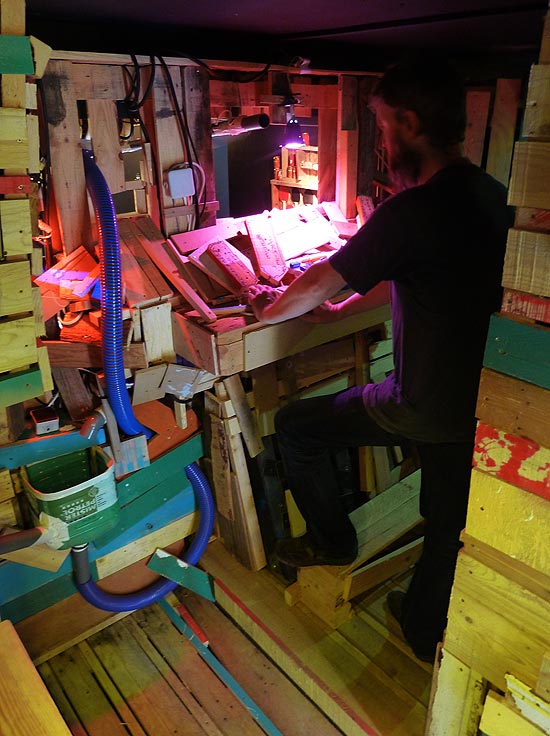 While some people play ping pong (preferably more than two players which then have to run around the table) another visitor can confuse the players via a separate control panel which is part of the sabotage edition: This destructive master mixer lets you switch the music to Heavy Metal (accompanied by disturbing strobe light); you can turn on fans on the ceiling for an additional wind challenge; you can just add some funny train and animal sounds with a supercool children's toy, or – and now it comes – you can spill plenty of balls onto the ping pong table which you collected beforehand with the "Ping Pong Ball Suction Construction"!
The destructive master mixer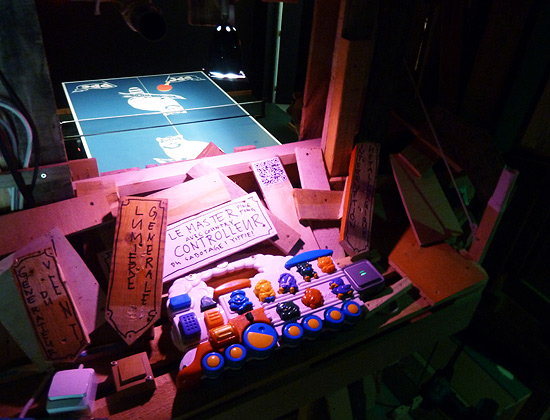 This suction construction works quite simple: It mainly consists of 30m transparent acrylic tubing, 20m of plastic hose, some sanitary drain pipe connectors, an industrial grade 2200W vacuum cleaner and a custom built ball collector. This stuff is all mounted below the ceiling and at the walls of the exhibition room.
Balls rushing through the pipes due to strong suction force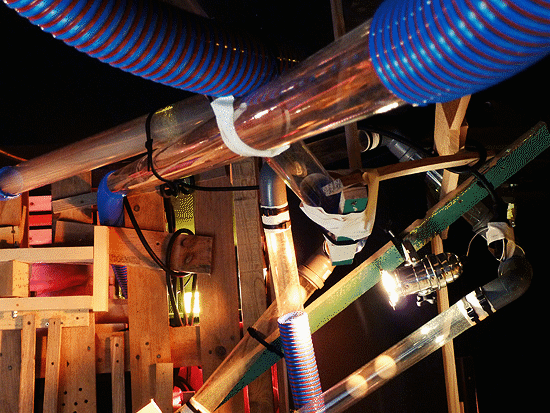 The system has several points where you can drop in balls and it also has a few buttons with which you can switch the vacuum cleaner. All balls are sucked through the pipe system into the ball collector, which is installed above the table. This container has a flap on its bottom which can be conveniently opened via a simple string/pulley/lever mechanism from the control desk. Opening this flap results in a release of all balls. They shower down all at the same time onto the ping pong table as you might have figured out already in case you watched the video above.
Balls go in here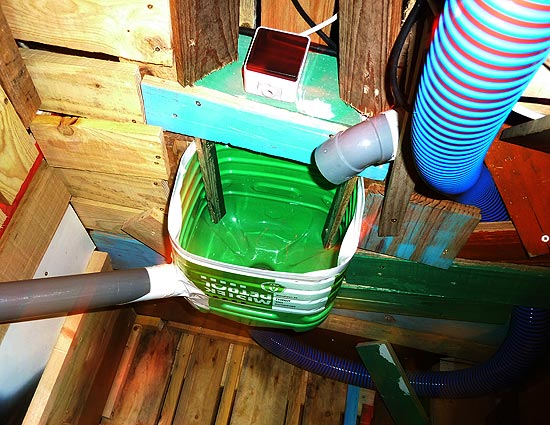 Unfortunately the video doesn't cover the breathtaking moment when all balls fall into an actually running game, which has to do with the fact that the cameraman was drinking alcohol and playing ping pong during those exciting seconds.
Instead I have some photos to share, which show the Texas saloon situation, that is located next to the ping pong floor:
From left to right: Sébastien, our French handyman who helped to build the installation, Bijan and Remco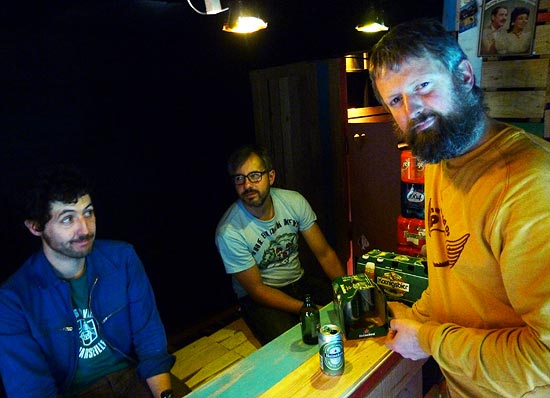 And I also have a photo which proves the alcohol part that I mentioned in the first paragraph, as you can clearly see when you look deep into Remco's eyes one or two hours later:
Cheers, Remco!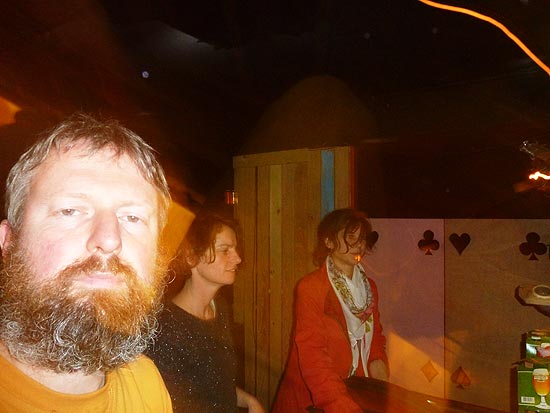 Additional resources