Friday June 21, 2013



Twittern
I'm happy to announce that PING! Augmented Pixel is part of the new permanent exhibition of ZKM Karlsruhe. The opening is tonight.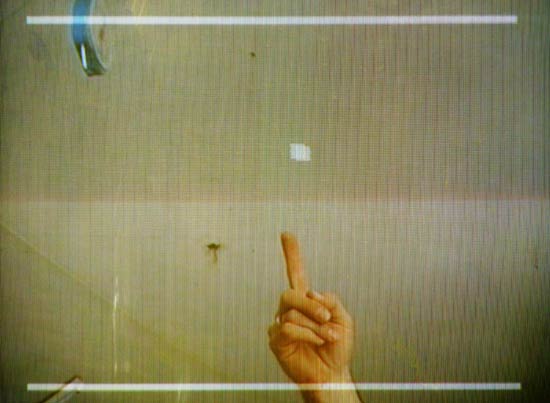 Tuesday June 11, 2013



Twittern
MediaLab Katowice invited Kati Hyyppä and me to produce an installation for the Katowice Street Art Festival a few weeks ago. Since neither Kati nor me have any particular expertise in Street Art (my one and only graffiti really sucked when I looked at it the next morning), we suggested to make an installation which invites people on the street and makes professional artists out of them.
You can find the full documentation here.
Or you just watch the video:
Tuesday May 21, 2013



Twittern
I'm about to prepare my presentation for Semi-Permanent in New Zealand next week. But before, I quickly wanted to clean up my computer's desktop, where I found this adorable photo: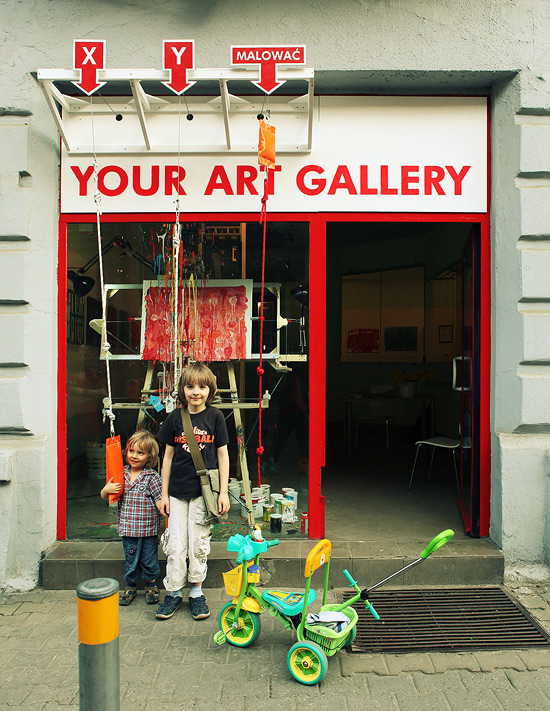 The full documentation will follow as soon as possible! I promise!
Friday May 17, 2013



Twittern
[Update: Shit_Fire_ on reddit translated the article! ]
Today I got funny post from Moscow!
It is the latest issue of the Russian Popular Mechanics which does not only feature insightful reports about pedal powered quadcopters, guns and tanks, but also quite a long article about my work. Even though I am thrilled about this media fame, unfortunately I don't understand any word of the article.
In case you do understand some Russian, here are the scans.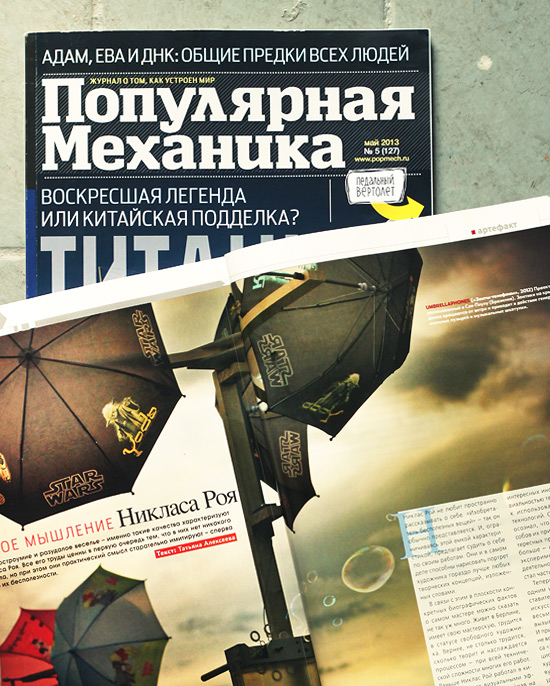 Friday May 10, 2013



Twittern
I'm editing the video documentation of the painting machine project right now. And while doing that, I found this photo of our remains on that shop window in Katowice on my harddisk :)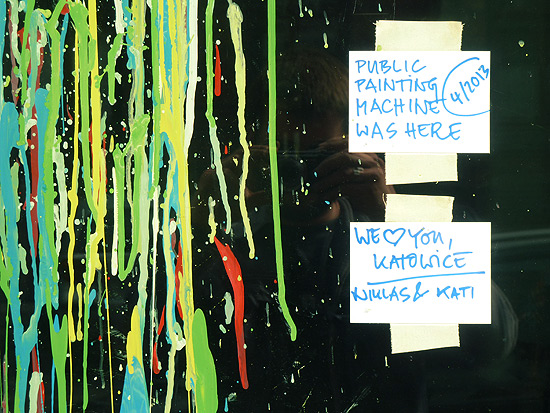 Monday April 22, 2013



Twittern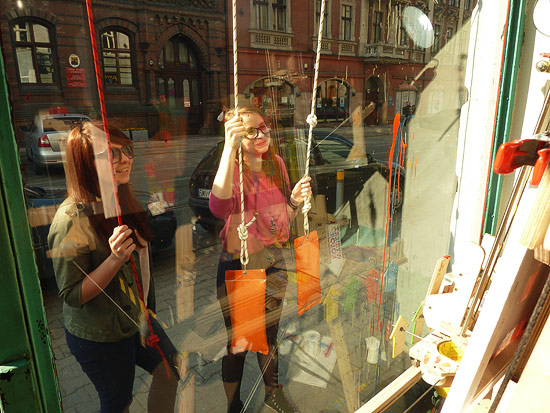 I'm in Katowice right now, where I'm presenting the brand new "Public Painting Machine" which I made in collaboration with Kati Hyyppä. Our installation is running since yesterday as part of the Katowice Street Art Festival and the locals obviously enjoy it a lot!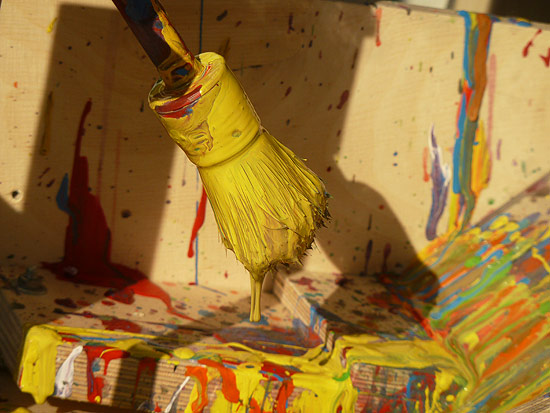 If you are in the area, come over and try it out! You can paint every day from 11AM to 1PM and from 2PM to 7PM. Next Saturday at 6PM we'll finish the installation with a big art auction where we'll sell all the paintings. You can find us here.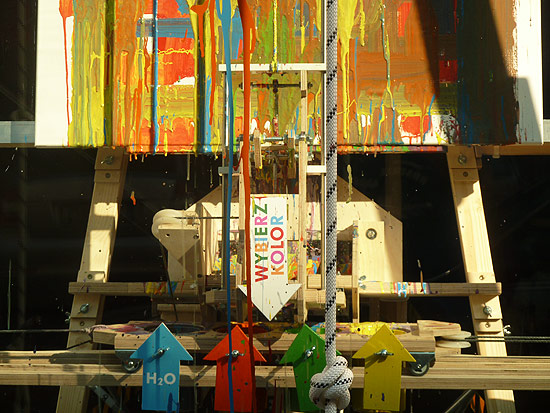 News that there's happening something exciting spread rather quick across the city. The local TV station also heard about it and today they showed up in order to interview us. You can find the video here.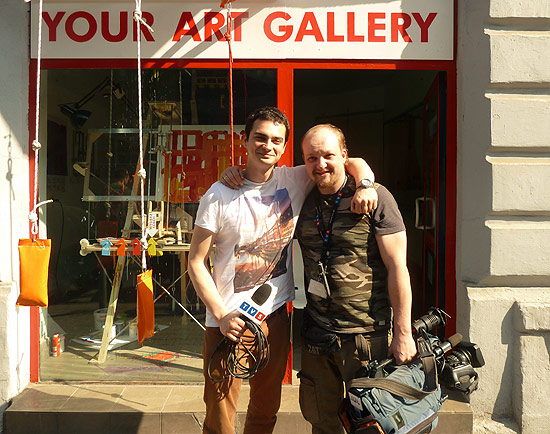 Stay tuned – a more elaborate documentation will follow soon!
Tuesday March 26, 2013



Twittern
I'm currently working on a new machine which will have its world premiere at Katowice Street Art Festival next month. Yesterday, it was time for a first test in the workshop: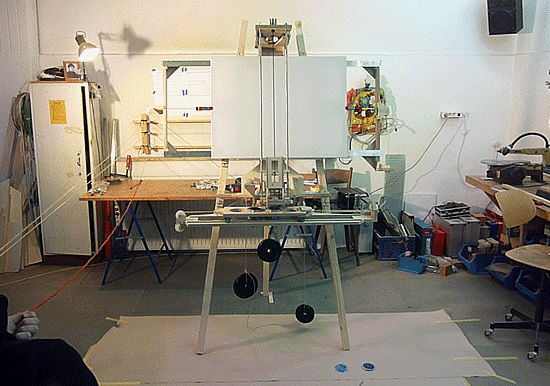 Friday February 22, 2013



Twittern
Last week, I had the honour to teach the electronic media class at the School of Art and Design Offenbach. I proposed the students to build computers out of cardboard, not knowing at all where this will lead to.
You can find a complete documentation with a nice video here.
But before you click on the documentation, I have a little appetizer for you: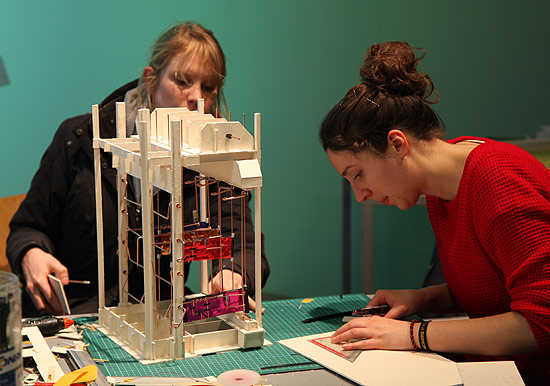 Anne Euler and Carolin Liebl are working on an information distribution knot.
The picture was taken at four o' clock in the morning.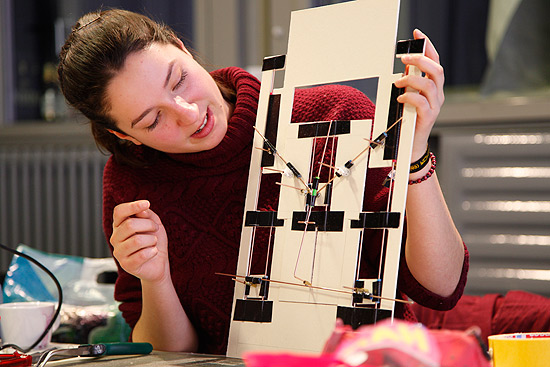 Carolin demonstrates a prototype for a mechanical NAND gate.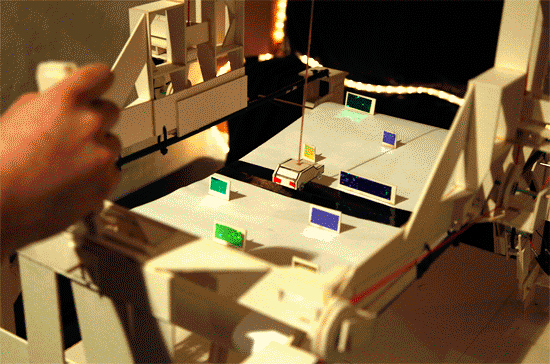 Jonas von Ronströms "Speedway PRO 1000" was the killer-app at our final presentation party.


Because building with cardboard is a lot of fun, I couldn't resist to construct a device as well. Below is a video of my digital cardboard plotter.
You can find the full documentation of this machine here.
Sunday January 13, 2013



Twittern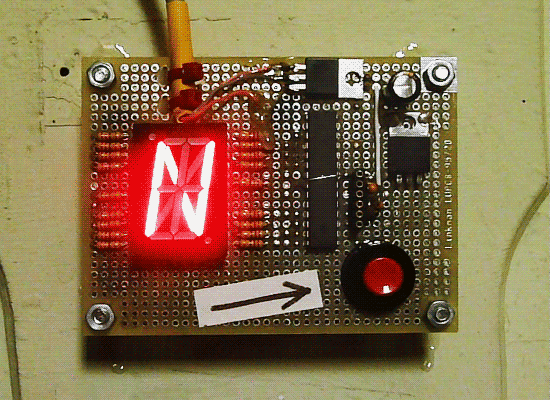 My doorbell did not work for seven years. Yesterday I decided to build a new one. It makes laser gun sounds and it includes an animated name sign. My neighbours like it.
Sunday January 13, 2013



Twittern