Teleflipper
2002
Teleflipper is a closed circuit installation, that suggests the utilization of virtual reality and artificial intelligence, but is realized without any computer. Instead, it consists of a modified pinball machine and video feedback. The pinball machine is located in one room, playing alone, just observed by a surveillance camera. Techniques of AI would allow to control the game autonomously and keep the ball on the playfield. In fact, the setup of the arcade game with the camera pointing on it propose the involvement of computational power in order to keep the sculptural play running. A second room within the same exhibition contains a commercial video game cabinet. The viewer can follow the action on the pinball play field over a monitor that broadcasts the signal from the surveillance camera. Attached to the display is a control pad, which lets the viewer remote control the pinball machine and play the game.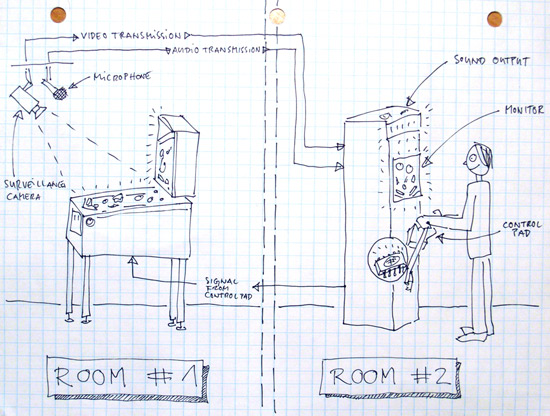 The drawing above explains the setup concept.
While someone who visits the room with the pinball machine first, will expect some artificial intelligence which drives the machine, another visitor who perceives the video game cabinet first, will expect the involvement of virtual reality in the realization of this 'video game'.
The photograph below shows the pinball machine, a modified 1974 "Star Trek" from Bally, at the 21C3 Chaos Computer Club Hacker Congress.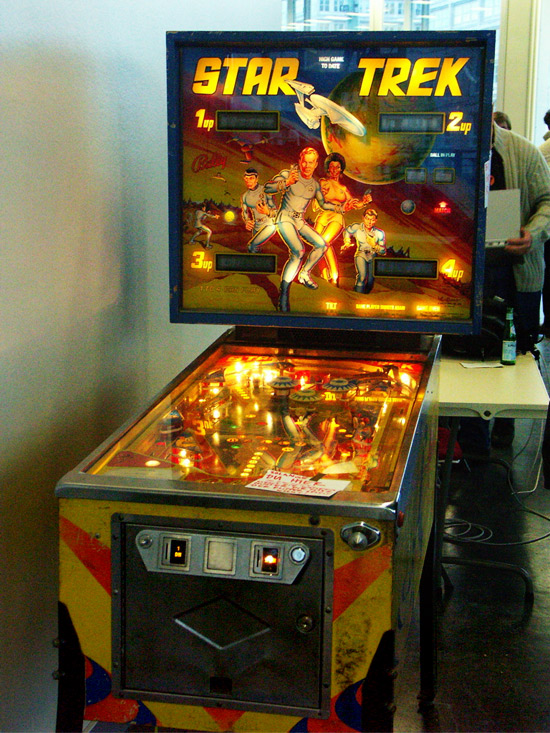 Connected to the pinball machine, but installed in a remote located room is the control terminal, a custom built commercial style video game try out cabinet, like you can find them in department stores to test the latest console games. The player controls the pinball machine via a control pad and sees the playfield through the surveillance camera.