Google Neighbourhood Watch


Friday August 20, 2010



Germany is currently witnessing a weird debate about Google's upcoming Street View launch.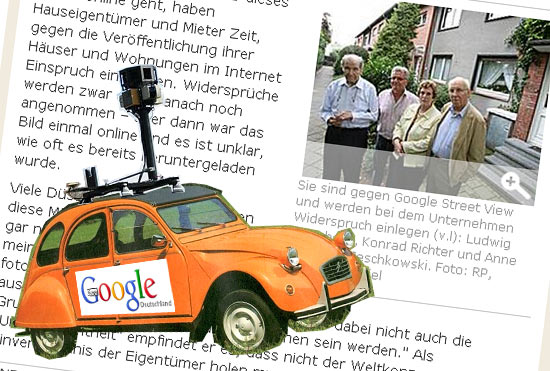 Formerly unknown citizens Ludwig Hillesheim, Konrad Richter, Anne and Erich Jeschkowski from Düsseldorf declare in public, that they don't want their houses to be shown in Googles service, while they don't mind to appear in the online edition of the Rheinische Post, posing in front of their homes. [ via ]
Bielefeld doesn't want to be represented at all in Google's virtual Street View. Thus feeding already existing doubts if that city actually exists in reality. [ via ]
Google offers right now an online tool to eliminate your house in their database. And on the other side, activists from a group called "Verschollene Häuser" plan to take georeferenced pictures of all those deleted houses, which they want to upload again.
Personally, I do like the idea of a virtual representation of my house. What I like even more is a slightly altered version of my home in the Internet. Google recently launched "Building Maker", a tool which offers an easy way to produce 3D models of your house. You can submit those models to Google, and there a jury (it seems that this is still done by humans and not by an algorithm!) decides, whether this model becomes part of Google Earth's 3D layer or not. Besides a few technical criteria, this decision is mainly based on realism. In other words, Google wants you to produce realistic models of existing buildings for their virtual world. The significance of this 3D database will obviously rise in close future, as Google also implemented an "Earth" function in Google Maps, where those 3D models are displayed. Almost the whole inner city of Berlin is already available in 3D, but as soon as you go outside the S-Bahn circle line, only a few 3D buildings exist.
I just live 300 meters outside the circle line and my house wasn't part of this 3D layer, which made me decide to sneak in with a slightly altered version of my building. I didn't go too far, as I wanted this sinister Google jury to believe that this is a realistic representation of my house. This strategy seemed to work. My 3D virtual house is now part of Google Earths 3D database. I have made a few screenshots and a video where you can see it. But of course, you can also navigate yourself around an in it with Google Maps Earth function, or with Google Earth. Just search for "Scheffelstraße 9, Berlin".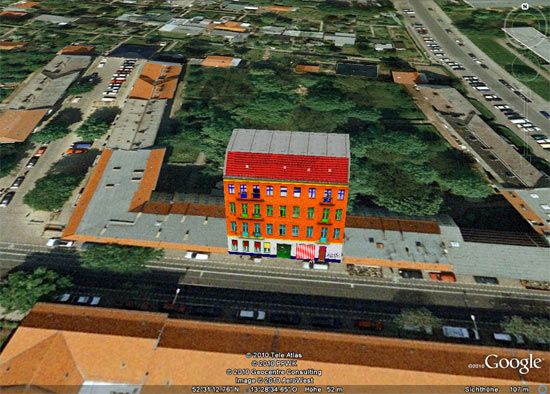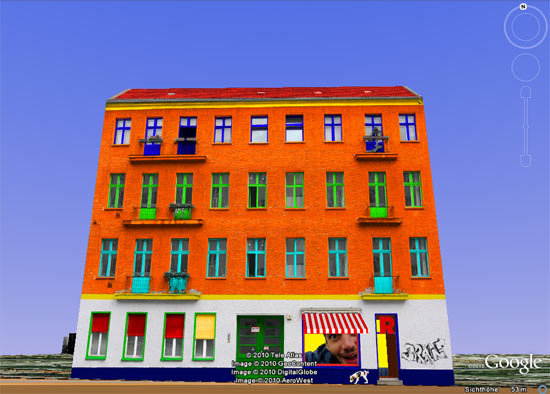 The dog peeing in front of my door is the only realistic detail in this picture.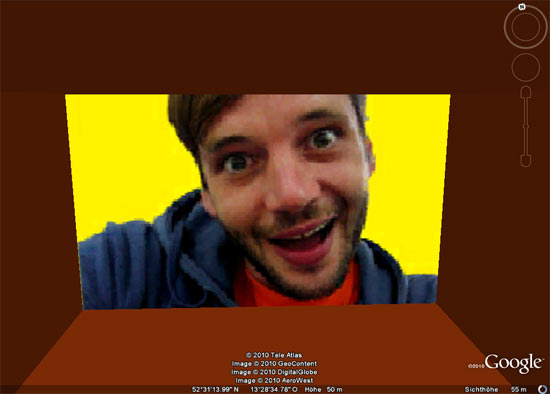 After this success, I modeled my whole neighbourhood. Stuffed with little stories, fake graffiti, hidden messages and other Easter eggs. Those models have not been accepted by Google, yet. So let's see what happens in the next days. For the moment, you can watch my neighbourhood in the video below, or you download the models from my profile in Google's 3D Warehouse, which also gives you the opportunity to stroll around the buildings in Google Earth.