Upcoming D. I. Y. Cyborg Workshop


Sunday September 1, 2013



[UPDATE: Application deadline is extended until September 25th!]
I'm happy to announce that Kati and me will conduct a super duper CYBORG WORKSHOP early October in Namur/Belgium! It takes place in an old church – a fantastic venue for reaching the next level of human evolution. Another excellent reason for joining this awesome three day workshop is that it costs only 20€ including foodz & materialz!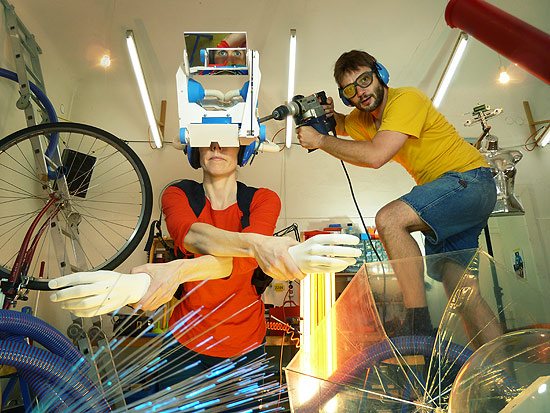 From the official workshop website:
During the three workshop days the participants will turn themselves from regular mortals into do-it-yourself cyborgs. By inventing and constructing wearable mechanical technologies from a pool of funny materials gathered from the hardware store, we will alter the way how our bodies interact with the surrounding world. If you ever dreamed of seeing 360° without turning your head or hearing through walls, come and make your cyborg dream come true. A pile of funnels, hoses, mirrors, welding helmets, harnesses and whatever else are waiting for your creativity to take over. No previous experience is required, just a vision for the future of human kind.
KIKK organizes the Cyborg workshop together with another great workshop hosted by my good friend Julien Maire. In his workshop, you can construct a mechatronic sculpture from old scanners and printers. If you'd like to participate at either Julien's or our workshop, you can apply until September 15th here.
We are so extraordinarily excited about the upcoming workshop that we could not resist doing some hands on research already. This resulted in two fascinating cyborg constructions – may the inspiration be with you:


The head level extender
I am not very tall. Not that I'd care too much about this, but sometimes being a bit taller would be quite handy. Like in the cinema, at concerts or when dusting the top of my bookshelf. So I built a head level extender – a wearable device, which makes me one head taller. The very lightweight construction consists of a periscope (which is easily adjustable to look up and down) and an audio elevator: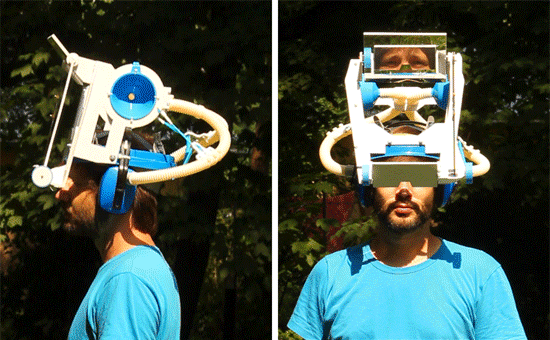 Since the Cyborg workshop will be a lot about recombining interesting materials from the hardware store (and from 1€ shops), here's what I used to build it:
1. Large piece of mirroring polystyrol glued on foam PVC
2. Plastic funnel (upper sonic pickup)
3. Smaller piece of mirroring polystyrol glued on foam PVC
4. Custom built manual mirror adjustment knobs (foam PVC with soft blue rubber coating)
5. PVC foam frame construction
6. Driving belt and gears from an old ink-jet printer (mirror adjustment system)
7. Plastic hose (for upper sound transmission)
8. Shoe laces (for hose position adjustment)
9. Construction helmet (I cut off a lot of unnecessary plastic)
10. Still some plastic hose
11. Earmuffs (reconfigurated as stereophonic playback adaptors)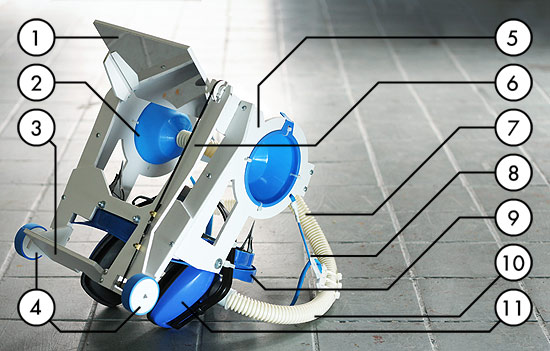 The personal rainbow generator
While I was working on my helmet, Kati came up with the idea that she'd like to have a permanent rainbow above her head. That was easy to achieve, as we had all the required materials in the basement already. The rainbow generator is a combination of an umbrella hat and a garden sprayer. The only additional thing which is required is sunlight.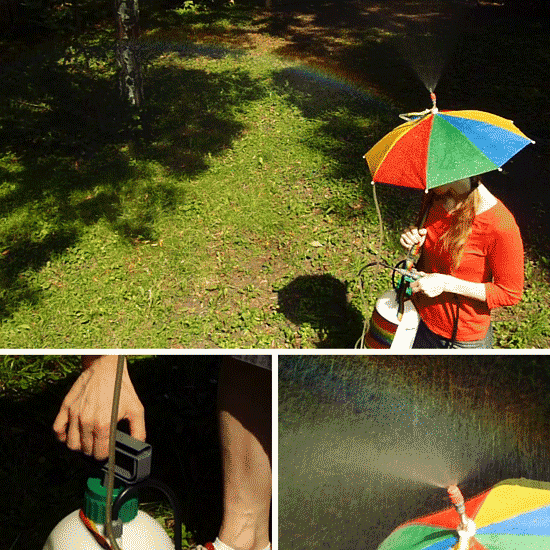 Here's the detailed material list:
1. rainbow umbrella hat
2. rainbow release nozzle
3. custom adaptor piece (soldered out of brass sheet and copper pipe)
4. hand pump (to pressurize H²O container)
5. H²O pressure container
6. rainbow strap shoulder mount
7. rainbow release button
8. decorative rainbow glitter foil on the rainbow container