Workshop in a suitcase


Friday September 14, 2012



WRO Art Center and Goethe Institute Krakow invite me for one month to Wroclaw, in order to make a free project, there.
The trip starts tomorrow. I have no clue what I'll produce, so I packed the 42 essentials of my workshop into a suitcase. It's a little bit of everything: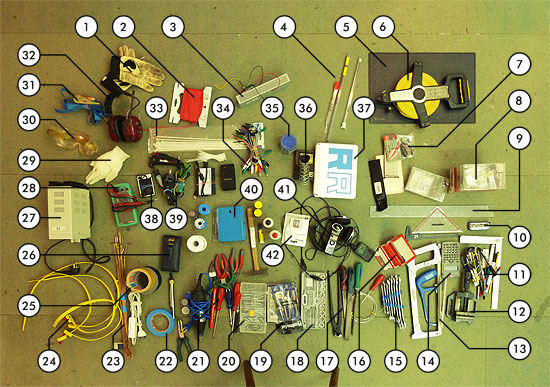 working gloves
sturdy red rope
switching power supply +12V/+5DC/-5V
various IC's (microcontrollers, 555 timers, opamps, darlington driver arrays, …)
cutting mat
loooooooooong measuring tape (50m)
RC servo, proto boards,

LCD

display (2×40)
little boxes with many little electronic components (resistors, capacitors, switches, transistors, sensors, photostuff, usb to

TTL

serial board, …)
measuring tools
swiss army knife
pens and other drawing gear, cutters and blades
little vise
saws
pocket calculator
flat wrenches
camera
hand tools (files, pincers, screwdriver)
thread cutters
tweezers
springs
more tools (shitty small dremel style no-name drilling machine, cutting discs, gas soldering iron, screwdrivers, nippers, screwdrivers)
funny blue masking tape, desolder pump above
brass tubes, welding rods
re-usable heavy duty tie wraps
even more tapes (double sided, gaffa) … and a little white netbook power supply below
glasses
laboratory power supply
multimeter
a bunch of rubber gloves
safety goggles
ratchet belt
ear protection with built in FM radio
tie wraps
crocodile cables
a plastic jar of rubber bands
soldering stand
cheap slow netbook
pocket oscilloscope (never understood how to use it – maybe I'll have to find out in Poland)
from left to right: soldering iron,

AVR

-

ISP

programmer, external 500GB harddisk, leatherman – and a gas torch above
drill bit set, solder and wires on its left, hammer and glues on its right
little good audio recorder, cheap headphones
memory card
I also asked the WRO Art Center to provide me with
a cordless power drill,
an electric jigsaw,
plenty of multiplugs,
a stereo,
a table,
good working light,
and a sofa.
The latter items aren't depicted here, as I'll be confronted with them not before tomorrow afternoon.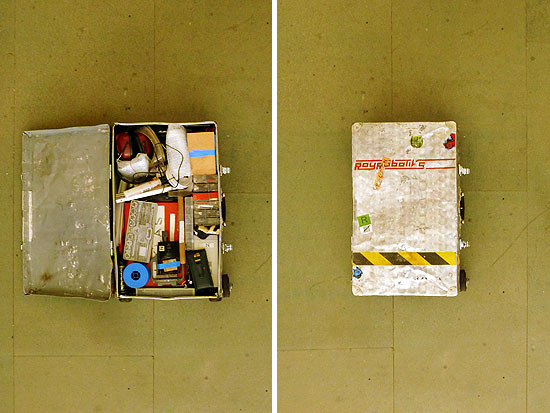 In the packed suitcase was even space left, which I filled with some more wires and tie wraps and sheets of PVC, ball bearings, …
Including the suitcase it's alltogether 34 kilos of densely packed fun stuff for Wroclaw!