Crates and scooters


Saturday July 14, 2012



Frequent readers of my webpage and of my Twitter stream know that my lifestyle includes plenty of travels. And from now on, I do that with my supercool scooter/trolley-combination, which I recently built in Basel, Switzerland! The idea for the scooter came from my students – I will tell more about this a bit later. But first, I want to show you a photo of me on the scooter. Imagine, I'd be on the way, through the park, to the train station: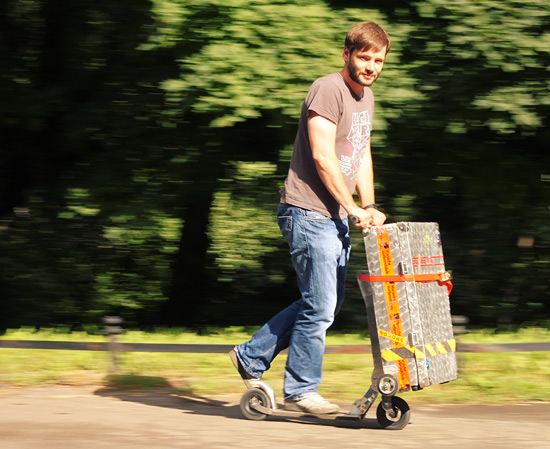 The cool thing about this contraption is, that the trolley (which is a very light old aluminum camera case with some add ons) can be quickly dismounted from the scooter. And the scooter can be folded – which comes quite handy when I store it in the train's overhead bins.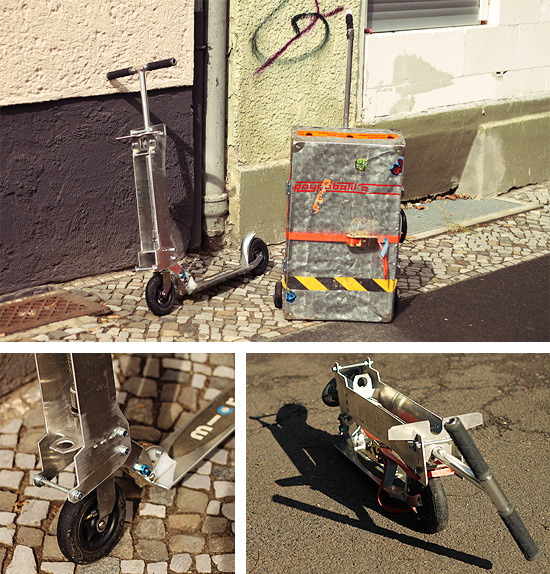 As you can see, the scooter is also a bit modified. It has a special trolley mount fixed on it, that I built out of thick aluminum sheet, which was cut with a CNC plasma cutter. The trolley can be hung in this mount and fixed with a belt for comfortable scooting. Below is a short clip of the plasma cutter in action, and here are the design files of the mount to give you an idea of how it is constructed:
So, this fantastic idea of a scooter/trolley came from students at the Institute of Post Industrial Design at Basel's art school, where I gave a workshop on building sophisticated crates a few weeks ago. My task was to help students to build multi purpose transforming crates for the institute's upcoming exhibition, in which everything from transportation, exhibition architecture and the actual show pieces will be based on flight cases. It was a very nice workshop indeed, and we made a lot of cool things, out of which the scooter/trolley was my favorite one. It was the project of Felicia Schäfer, Sandra Kessler and Georg Egli, who mounted flight cases on scooters in order to do a Summer travel messenger performance with it. Here, Georg and Felicia are working on their crate: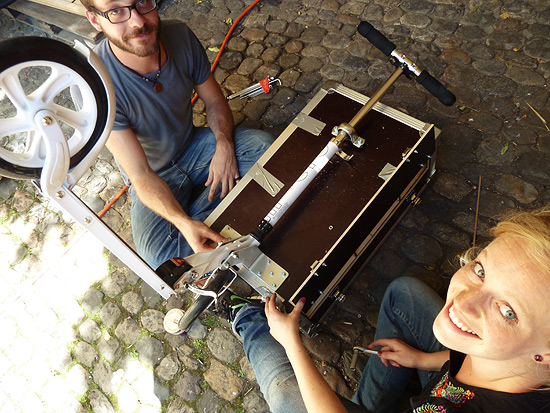 Felicia's, Sandra's and Georg's idea is to provide a delivery service called Poposcha (from Pop-up and Matryoschka ). First, they will set up stands in downtown Basel using their flight case scooters, which can be handily transformed into little counters. On those counters, people can leave messages of their choice, whether it be a note on a paper, a small gift to a friend, a recorded song or a message in a bottle. In addition to Switzerland, messages can be sent even to neighboring countries. The messages will be delivered with the scooters, using also occasionally public transportation. Basel is only the starting point for Poposchka, and the little traveling delivery service will migrate to different cities and countries during Summer 2012. You can follow Poposcha's adventures here: www.poposchka.ch
So if your email doesn't work next month, you might want to get in touch with them (via phone, or so) – because maybe, they can deliver your messages then, too.
Here's another picture of Felicia with a weight model (two containers filled with water) and the (not yet completely finished) stand setup on the right side.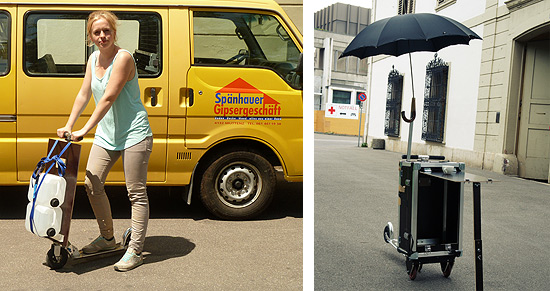 Good luck on the trip in August, Poposchka!
And btw. – you can find more hires photos of my scooter/trolley here.